The Indian team could not win the World Cup 2019, but now the goal of the Indian team is to win the 2020 T20 World Cup. For which the Indian team has also started its preparations. India, under the leadership of Virat Kohli, definitely has a team that can make India the winner of the T20 World Cup.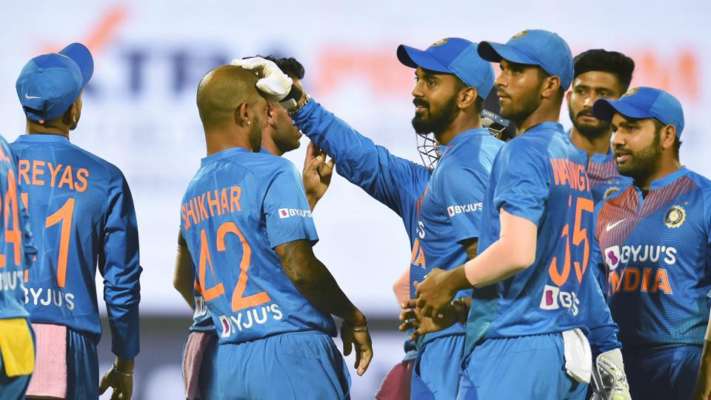 However, there are still some deficiencies in the team, for which the team needs to improve those deficiencies. Today we are going to talk only about those 5 areas of improvement that India will have to do to win the T20 World Cup.
There will be change in batting approach
The batting approach of the Indian team in T20 cricket is not the way it should be. In fact, Indian cricketers do not play in the aggressive way they should play in T20 cricket, and as a result, India's T20 ranking is No-5.
Rohit Sharma, Shikhar Dhawan and Virat Kohli all three top-3 players take some time in the beginning, but T20 cricket ends so much, it becomes difficult to recover. The batsmen will have to make some changes in their approach and will have to dominate the bowlers from the beginning.
If the Indian batsmen play aggressive cricket, the Indian team will benefit greatly from it. All the world's strongest T20 teams currently believe in playing aggressive cricket.
In place of Shikhar Dhawan, Rahul will have a chance in the opening
He has played 7 matches so far, Shikhar Dhawan mixing 2014 and 2016 Kati-20 World Cup. In which he has scored just 74 runs with a very poor average of 10.57 and a very poor strike rate of 83.14. His current T20 form is also not very special.
After this failure in the T20 World Cup, the selectors find it better to keep them away from their thoughts. Till Shikhar Dhawan's powerplay, he plays good shots, but after this he is seen struggling to play big shots. Shikhar Dhawan has not done anything special in T20 cricket so far.
KL Rahul seems to be a better option for the opening position than Shikhar Dhawan. His T20 record is also excellent. He has scored a total of 922 runs in 30 T20 internationals played at an average of 41.9. He has also scored 2 centuries in T20 international cricket. His strike rate in T20 cricket is 145.2. He has opened for India in 14 matches and in that too he has an average of over 41 and a strike rate of over 140.
Rishabh Pant will have to prepare other wicketkeeper
Rishabh Pant
Despite being a flop on the West Indies tour, Rishabh Pant was selected for the tour of South Africa. He was a flop in this series too, but he was selected against Bangladesh. The selectors are showing great faith in him, but he is not able to prove himself.
In such a time, the time has come for the selectors to prepare someone else for the 2020 T20 World Cup. The Indian team has youngsters Sanju Samson, Ishaan Kishan and veteran Dinesh Karthik. It would be better to prepare one of these three wicketkeepers for the 2020 T20 World Cup.
Kulcha's pair will have to be brought back
Kuldeep Yadav and Yuzvendra Chahal were not selected in the T20 series against the West Indies. At that time, it seemed that both the bowlers have been rested, but once again the selectors ignored both the young players from the T20 team against South Africa.
Yuzvendra Chahal has returned against Bangladesh, but Kuldeep is still running out of the team. Both wrist spinners were consistently doing well in ODIs and T20 cricket for the Indian team for the last 2 years, so giving the pair a chance in the playing eleven together is very important for the Indian team.
Mohammed Shami shows confidence in T20 cricket as well
In ODIs and Test cricket, Mohammad Shami is one of the leading fast bowlers of the Indian team, but in T20 cricket the selectors are ignoring him. While Mohammed Shami bowled brilliantly in IPL 2019.
He took a total of 19 wickets in 14 matches of IPL 2019, playing from Kings XI Punjab. Currently, the Indian team is trying many fast bowlers to support Bumrah and Bhuvi, but they are not proving successful. In such a situation, the selectors of the Indian team should bring back Mohammed Shami.