Following the Supreme Court's decision on the Ayodhya case, a meeting was held with various religious leaders at the residence of National Security Advisor (NSA) Ajit Doval in Delhi on Sunday. It included Ramdev, Swami Paramatmanand, Swami Awadheshanand, Shia religious leader Maulana Kalbe Jawad and other religious leaders. It is being told that the peace system in the country was discussed in the meeting.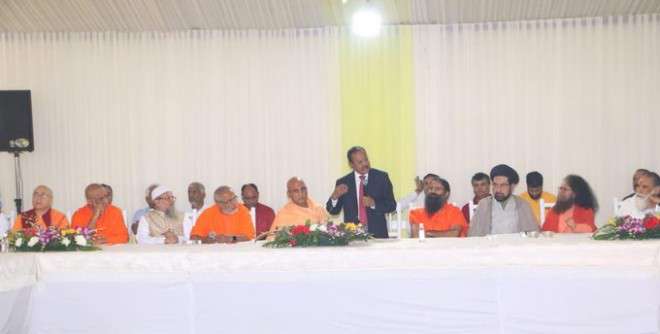 Had met many religious leaders earlier also
On Saturday too, Ajit Doval met Awadheshanand Giri, Swami Paramatmanand and Baba Ramdev at his residence which lasted for about an hour. After meeting Doval, Awadheshanand Giri said that they have discussed the situation after the verdict. Parmatmanand said, we met Doval to discuss the need to maintain peace in the country. We will continue to work for it. '
Amit Shah had a review meeting
Home Minister Amit Shah held a security review meeting with National Security Advisor (NSA) Ajit Doval, Heads of Intelligence Department and higher officials of the Ministry on Saturday morning. After the decision, the Home Minister spoke to the Chief Ministers of all the states one by one on the phone and inquired about the situation.
Police kept a close watch on social media
The special thing is that the police of the states was keeping a close watch on those who posted inflammatory posts on social media by forming a separate cell. Those who did so were arrested immediately and their information was being posted on Facebook and Twitter. The Ministry believes that this work has made a huge impact and has been controlled before any kind of rumor decision. A resident of Meerut's Civil Lines was arrested within ten minutes of posting the provocative post on Facebook. Similarly, Noida police took many people as a precautionary detention on the basis of posting the rumored statement and put its information on social media.
Still monitoring
According to sources, some states like Bihar, West Bengal and Kerala are being closely monitored. The intelligence system is also being provided by the Center. Similarly, special care has been taken to identify sensitive areas across the country. The Home Minister is in constant touch with the Chief Ministers of such states.