Jammu: The senior leader of the Bharatiya Janata Party Jammu and Kashmir unit and former Chief Minister Dr Nirmal Singh said that it was necessary to impose a Public Safety Act on people like Dr Farooq Abdullah, the President and Member of Parliament of the National Conference. He said that leaders like Farooq Abdullah want to worsen the situation in Kashmir.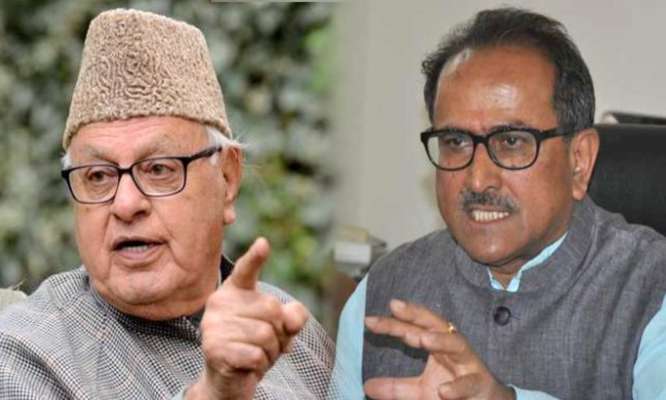 The Kashmir administration yesterday imposed a PSA on Farooq Abdullah yesterday and made his residence a sub-jail where the detainees would remain locked. He was detained at his residence in Srinagar on August 5, the day the Central Government canceled Article 370 of the Constitution of India, granting special status to Jammu and Kashmir and declared the state to be divided into two parts.
Dr Nirmal Singh, who is also the Speaker of the State Assembly, told reporters here: 'PSA is imposed when efforts are being made to disrupt public safety. Such a situation has been created in Kashmir. As Dr. Farooq Abdullah has been appointed PSA. Such leaders and the rest of the people are trying their best to make peace in Kashmir somehow. It was necessary to take such action in view of his statements. '
He further said: 'By taking such measures it has happened that no single bullet has been fired in Kashmir till now, no blood has been shed. Terrorists have killed people. But the security forces' bullet did not hurt. The PSA step has been taken for the safety of the people. It was necessary to take these steps in view of the situation. '
On the cancellation of Section 370, Dr Singh said: 'Section 370 was a device that we tested for 72 years. It gave us nothing but secession, nationalism and regional injustice. '
It is noteworthy that the PSA has been declared an "illegal law" by Amnesty International, a global human rights watchdog organization. Under this, no person can be imprisoned for at least six months without a court appearance. In Jammu and Kashmir, the law is applied to extremists and pro-independence protesters. Most of those imposed on the act are locked up in prisons outside Kashmir.
The administration has kept all separatist leaders and workers in the police station or house in Kashmir since the repeal of Article 370. In addition, the leaders of the parties who have been participating in elections in the state, excluding the BJP, have been kept under house arrest, at their homes or at the Santor Hotel, located on the banks of Lake Afaq Dal in Srinagar city. They are also not allowed to move from one place to another.
Send feedback
History
Saved