Flood situation has re-emerged again in Patna, Bihar. Flood water has entered many areas of Patna after rising water levels of several major rivers, including the Ganges. The Ganges river in Patna is on its way to the village leaving its beaches.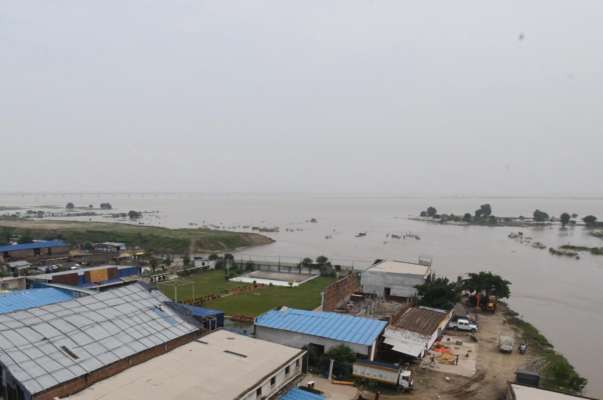 According to reports, on Friday, Ganga, Gondak and Bagmati are also flowing above the danger mark in several areas. Chief Minister Nitish Kumar visited the flood-hit areas on Thursday evening to assess the situation there. The Chief Minister is also visiting the flood-hit areas on Friday.
Due to the rise in the water level of the river Ganga in Bihar, water has also entered Patna and its adjoining areas. Due to the Ganges, flood water has begun to enter the village in Buxar, Bhagalpur and Mangir.
The rural area in Bakhtiyarpur of Patna is submerged in water. In these areas, hundreds of acres of land have been destroyed by steep crop submerged in water. As the Ganga water enters the sub-areas of the village Kala Kalawara, Ropes Marwahi, Chariya, Hardaspur and Sat Bhaya Ram Nagar Panchayats, people are forced to seek shelter with pets.
Meanwhile, an official of the Department of Water Resources said on Friday, "There is a decline in most rivers in the state. The river Ganga is flowing above the danger mark in Bihar in Buxar, Patna, Deogha Ghat, Gadhi Ghat, Hathadi and Bhagalpur districts. The Bagmati river has crossed the danger mark in Thang and Beni Bad, while the old Gundak river is flowing above the danger mark in Khagariya and the Kamla Balan river Madhubani.
Chief Minister Nitish Kumar on Thursday reviewed the water level of the Ganges in Patna. On arriving from Digha Ghat to NIT Ghat, the Chief Minister said, "Ganga is on its own but there is no such situation as the flood that came in 2016. No one knows what tomorrow will be, you need to be careful. ''
He claimed that the government was fully prepared to deal with any situation. He said that the villagers themselves will conduct aerial inspection between Bukkar and Patna on Friday. He urged the district magistrates to be vigilant, besides the water resources, disaster management department and all concerned districts.