Shahjahanpur: Former Union Minister of State for Home Affairs and Bharatiya Janata Party (BJP) senior leader Chenmeyananda, who was arrested on Friday morning for allegedly sexually assaulting a law student, confessed before the police. Three more people have been arrested on the charge of forcible recovery, including two relatives of the victim.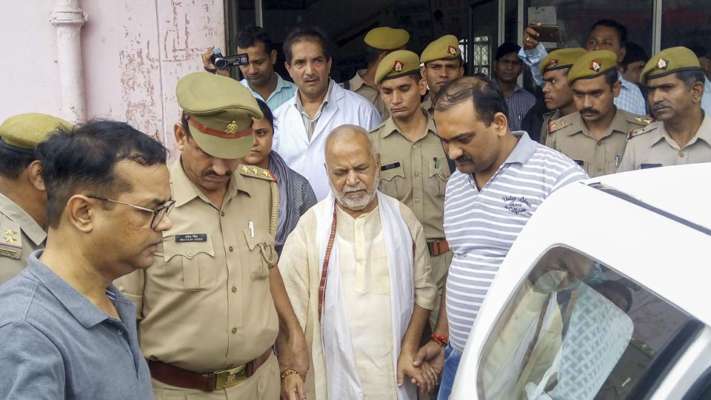 On the order of the Supreme Court, investigator SIT (Special Investigation Team) chief and Inspector General of Police Naveen Arora told reporters here that Chenmiananda accepted all the allegations except sexual abuse. He said he had admitted to having pornography on the phone with the student and massaging her body.
In the last inquiry before the victim, the victim said that she could not say anything further because of the shame in the matter. The SIT chief said that he had spoken to the student 200 times over the phone with a record of which he was present. Arora said that police have arrested three persons in connection with the forcible recovery of Chenimyananda, of which two are the relatives of the victim. They demanded Rs 5 crore and phoned him 4200 times for this purpose.
On the other hand, the Director General of Police (GDP) OP Singh said that the SIT was acting on the orders of the Supreme Court. There was no interruption in his work. He said that just as the video of the girl went viral, the forced recovery video also went viral. The girl and her friend Sanjay had demanded Rs 5 crore from Chenmeyananda.
Chenmyanand was arrested on Friday morning at his Moksha Ashram residence. He was subsequently produced before the Judicial Magistrate Omur Singh's court from where he was remanded in judicial custody for 14 days. Investigating agency officers took him to jail. On the other hand, Congress General Secretary Y. Priyanka Gandhi Vadra has questioned the delayed arrest of Chennaiyananda. This is what happens in the BJP, he said.
It is to be noted that the Swami Sukh Devanand Law College student posted a video on August 24 in which he claimed that a monk ruined the lives of several girls. He and his family are at risk of being killed by the same monk. In this case, the girl's father lodged a report of sexual assault (rap) against the Chenimyananda in Shah Jahanpur Kotwali. On the other hand, the Chenimyanand lawyer had filed a case for recovery of Rs.5 crore. The student later went missing and was exported from Rajasthan on August 30.
The Supreme Court had taken notice of the matter and directed the state (Yogi government) to investigate the matter. The government then constituted the SIT to investigate the matter. The SIT had questioned Chenimyananda for about seven hours in this regard. The student was also questioned for several hours. The student handed over a PAN drive to the SIT following the 164 statement containing approximately 43 video clips as proof.