Lucknow: With monsoon reactivation in Uttar Pradesh and continuous rains for the last two days, the normal life of people has been badly affected in many districts of the state including eastern Uttar Pradesh and the spread over hundreds of acres has been ruined. More than 20 people have died so far due to rain, lightning and floods.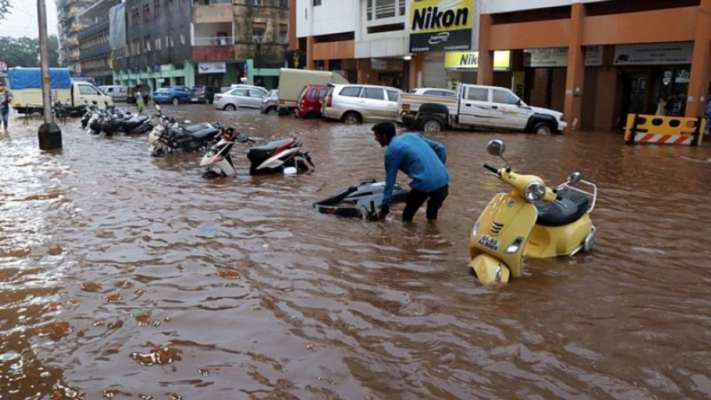 According to the Meteorological Department, the rainy season could continue for the next two days and flood waters in Ramnagar and Gospur Tehsil of Bara Banki district, adjoining the capital Lucknow, flooded the area late last night, leaving people sheltered in safe places including livestock. In Bara Banki, the Gharagha river is flowing 40 cm above the danger mark, while the harvest of Masuli dam has been wasted at 100 Begah.
Water is flooded on the main highway from Bara Banki to the highway. People are using the boat to get in because of the water being filled on the roads. The floods continue to displace people in the Ganges and Jamna rivers in Prayagraj. Floods have affected more than 5 million populations.
Allahabad, from city to village, is submerged in water - fire brigade teams have been carrying out rust for the past six days. Army has called for help in dealing with the floods. All schools are closed for the next four days until the 12th. Flood water has accumulated in several villages of Kanpur's Ghatampur Tehsil. The district administration has transported people caught in the flood to safe places.
The water level of the Ganges has increased by 35 cm in Varanasi today. About 60 villages have been hit and hundreds of acres of crop have been destroyed. 160 boats have been set up for relief and rescue. District Magistrate Surendra Singh fell while distributing relief goods among the victims in Varanasi yesterday. The Dubey Chhapra Dam in Bilai has also been filled with water on Highway 31.
In Ghazipur, the Ganges is growing at a speed of half a centimeter. The Gangaki water level is still one meter above the danger mark. Damania police station in Jumianya Kotwali is submerged in flood water. The police outpost has been shifted to a school.
The water level in Gonda is 42 cm above the danger mark. Last Thursday, 200,000 cusecs of water was released into the ghagra from various barrages. Increased water levels are damaging the dam, which makes it vulnerable to breakage. More than one lakh population was affected by floods in 220 villages in Mirzapur, while 600 bighas of crops were destroyed in Bhadohi.